-Location: Varies
-Start & Duration: Volunteers can begin our placements based on their choice program dates.
Qualifications: 18+ years, Volunteers participating in the health care must have appropriate training and certification (to be presented during placement)
Languages: English speaking
Experience Required: None
Participants: Open to both International and domestic participants both individual and group volunteers.
Living arrangements: Home stays, hostels, apartments
VolunTravel packages : Volunteers are given the opportunity to choose a safari of their interest.
Projects Facts:
Project Information: No duration restrictions
Project Costs: Varies on the length of the program
Arrival Airport: JomoKenyatta or Mombasa Airports
Activities: Working at either of our programs
Working Hours: Tuesday – Saturday 7 hours per day (Day off on Mondays
Getting to the project: You will be living and working inside or near your program site
What's Included:
Accommodation: Comfortable cabins, single or twin rooms with electricity
Food: Your fee includes breakfast, lunch & dinner
Airport Pickup: You will be met at the airport by a member of staff from the wildlife orphanage
Training: In-Country orientation & induction by one of the wildlife orphanage staff members
Support: Pre-departure support & local 24hr contacts and backup
What's not included:
Flights, Insurance, Visas, Local transport
This volunteer opportunity will help you explore the wonders of Kenya while helping those less fortunate. It will also give you a wonderful introduction to the famous safari country during your volunteer holiday. Advance Africa volunteer in Kenya opportunities are available in orphanages, schools, hospitals and community medical clinics. We work directly with the projects where we send you and where your contribution will make a real and meaningful difference. You will be offered a personal and customizable placement service. You will be supported throughout the duration of your placement. We use our local knowledge and spend time in the country meeting your requirements.
Customized placements that volunteers have asked for in the past include volunteering in mobile clinics, volunteer in mental health clinics, amongst the handicapped, hospice volunteering, HIV/Aids or doing volunteer work in specific areas like nutrition, dental services and working amongst the
Children Orphanage Volunteers Program
: You will work with HIV/AIDS orphans, many of whom are HIV positive. Others have been abandoned after birth. We have orphanage projects in Nairobi, orphanages in Mombasa, Nakuru and other small towns. Orphans in Kenya orphanages and Children's homes are extremely disadvantaged and encounter a lot of hardships in their life.
Medical and Health Volunteer Program Volunteers
: In this area are given responsibilities depending on their medical qualifications. Qualified doctors and nurses can carry full day to day treatment of various diseases. Medical students work under the supervision of qualified medical personnel.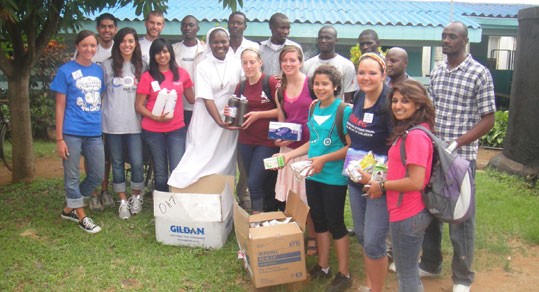 Volunteers on the teaching program: Assist with the teaching of different subjects in Kenyan elementary and high schools. Volunteer teachers can teach mathematics, science, geography, social sciences, history, business education, English, art and music. Volunteer teachers are not required to have teaching experience. Our volunteers work in schools with students who come from very difficult economic circumstances or are orphans. Please note that Kenyan school holidays are in April, August and November 15 –January 3rd. No school teaching will be available during that period.
Masai Volunteer Program : are available amongst the Masai tribe of Kenya. The volunteer jobs are close to the Masai Mara Game reserve. Volunteers work in a rescue centre which accommodates Masai women and Masai girls rescued from forced marriages and those
rescued from forced Female Genital Mutilation(FGM) practices.
HIV and AIDS Voluntary program
: Your HIV/Aids volunteer service will include homecare visits to the slums bringing vital supplies of food, medicine, and providing basic medical care. HIV/Aids volunteers help decrease the spread of HIV by raising awareness and promoting access to medical care. Volunteers also provide emotional support and foster compassion for people living with HIV/Aids in the community. Volunteers educate and counsel the community, schools and individuals. AIDS orphans are often neglected in Africa. As a volunteer in this program, you will visit HIV/Aids clinics, and help meet the needs of affected people in the community.
Volunteer in Animal Shelters and Orphanages,
Environmental
and conservation Projects,Volunteer in Hospitals, Volunteer in development Construction sites:
More volunteer destinations are available with special arrangements. Kenya Volunteer Program Schedule You can volunteer for any duration and stay as long as you wish. You can arrive at anytime during the month and the volunteer work starts the following day.